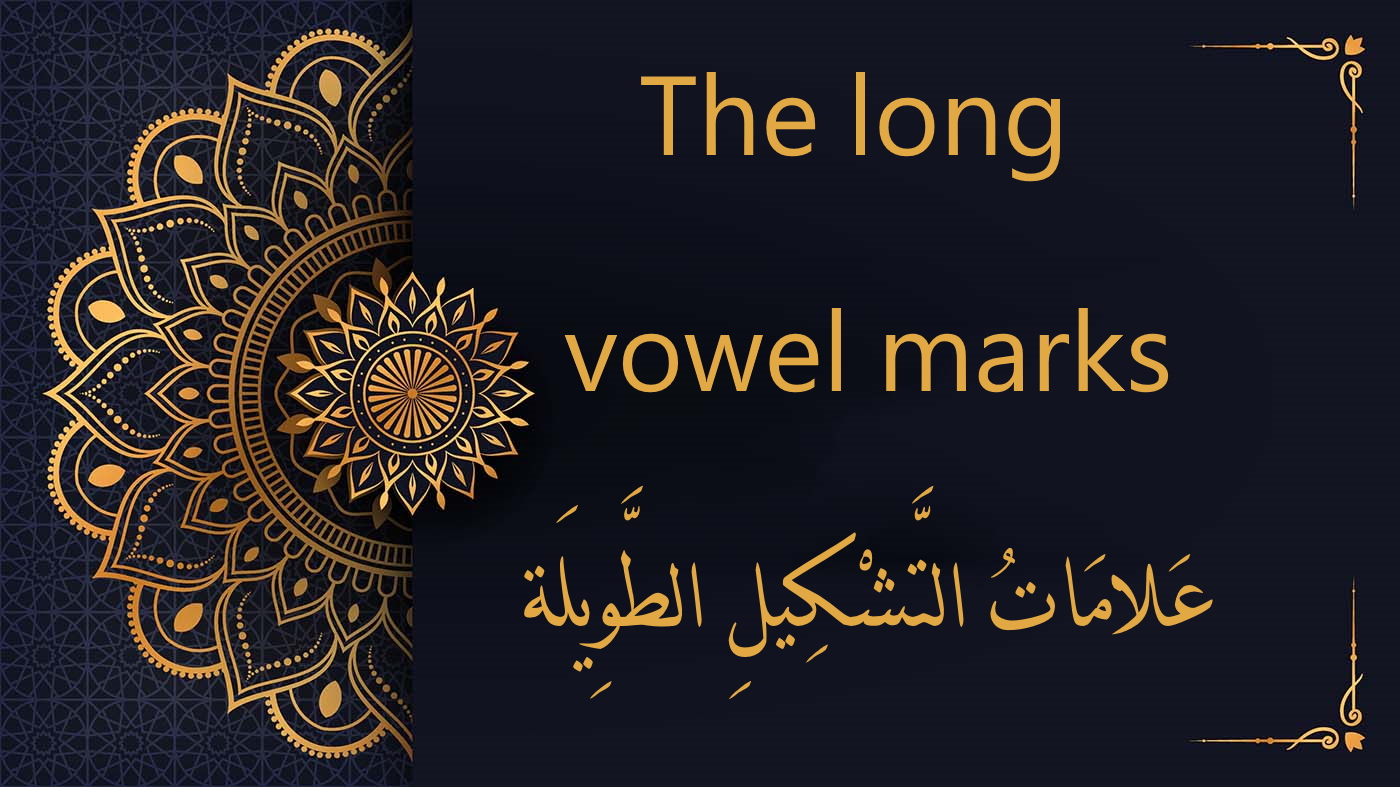 Introduction
In this 4th lesson to learn the Arabic alphabet for free, we will see that the Arabic language words use long vowel marks. We have previously seen short vowels and tanween in Arabic.
Long vowel marks represent the following sounds
ALIF AL-MADD: "A" long sound.
WAW AL-MADD: "OO" long sound.
YA AL-MADD: "EE" long sound.
We see that the long vowel marks are in fact similar to the short vowels sound, but it is lengthened during pronunciation. Thus, they are formed from three letters: Alif, Waw, and Ya.
IMPORTANT NOTE: The long vowels have the same writing properties (start, middle, end; attachment or not) as the following letters:
ي و أ
Book your free trial lesson
In addition to the free Arabic courses, we offer you to begin your journey to fluency in Arabic right now for free with a graduated Egyptian teacher.
Summary table of long vowels marks for each letter of the Arabic alphabet
| Dammatan | Kasratan | Fathatan |
| --- | --- | --- |
| أُو | إِي | أَا |
| Dammatan | Kasratan | Fathatan |
| --- | --- | --- |
| بُو | بِي | بَا |
| Dammatan | Kasratan | Fathatan |
| --- | --- | --- |
| تُو | تِي | تَا |
| Dammatan | Kasratan | Fathatan |
| --- | --- | --- |
| تُو | ثِي | ثَا |
| Dammatan | Kasratan | Fathatan |
| --- | --- | --- |
| جُو | جِي | جَا |
| Dammatan | Kasratan | Fathatan |
| --- | --- | --- |
| حُو | حِي | حَا |
| Dammatan | Kasratan | Fathatan |
| --- | --- | --- |
| خُو | خِي | خَا |
| Dammatan | Kasratan | Fathatan |
| --- | --- | --- |
| دُو | دِي | دَا |
| Dammatan | Kasratan | Fathatan |
| --- | --- | --- |
| ذُو | ذِي | ذَا |
| Dammatan | Kasratan | Fathatan |
| --- | --- | --- |
| رُو | رِي | رَا |
| Dammatan | Kasratan | Fathatan |
| --- | --- | --- |
| زُو | زِي | زَا |
| Dammatan | Kasratan | Fathatan |
| --- | --- | --- |
| سُو | سِي | سَا |
| Dammatan | Kasratan | Fathatan |
| --- | --- | --- |
| شُو | شِي | شَا |
| Dammatan | Kasratan | Fathatan |
| --- | --- | --- |
| صُو | صِي | صَا |
| Dammatan | Kasratan | Fathatan |
| --- | --- | --- |
| ضُو | ضِي | ضَا |
| Dammatan | Kasratan | Fathatan |
| --- | --- | --- |
| طُو | طِي | طَا |
| Dammatan | Kasratan | Fathatan |
| --- | --- | --- |
| ظُو | ظِي | ظَا |
| Dammatan | Kasratan | Fathatan |
| --- | --- | --- |
| عُو | عِي | عَا |
| Dammatan | Kasratan | Fathatan |
| --- | --- | --- |
| غُو | غِي | غَا |
| Dammatan | Kasratan | Fathatan |
| --- | --- | --- |
| فُو | فِي | فَا |
| Dammatan | Kasratan | Fathatan |
| --- | --- | --- |
| قُو | قِي | قَا |
| Dammatan | Kasratan | Fathatan |
| --- | --- | --- |
| كُو | كِي | كَا |
| Dammatan | Kasratan | Fathatan |
| --- | --- | --- |
| لُو | لِي | لَا |
| Dammatan | Kasratan | Fathatan |
| --- | --- | --- |
| مُو | مِي | مَا |
| Dammatan | Kasratan | Fathatan |
| --- | --- | --- |
| نُو | نِي | نَا |
| Dammatan | Kasratan | Fathatan |
| --- | --- | --- |
| هُو | هِي | هَا |
| Dammatan | Kasratan | Fathatan |
| --- | --- | --- |
| وُو | وِي | وَا |
| Dammatan | Kasratan | Fathatan |
| --- | --- | --- |
| يُو | يِي | يَا |